Plantar Fasciitis can be a real pain in the foot. The Plantar Fascia is the ligament that connects your heel bone with your toes and supports your foot arch.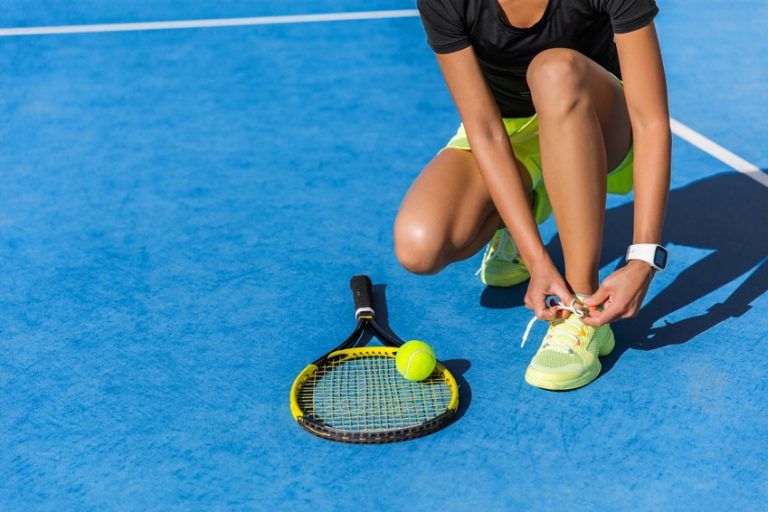 Swelling in the Plantar Fascia that runs from the heel to the sole of your foot leads to a stabbing pain in the heel, and anyone who has felt it knows just how much Plantar Fasciitis can affect your ability to move.
Tennis players are particularly at risk because of the biomechanical impacts that the game can have on your feet. Lack of stretching, poor stretching and an uneven court can all be aggravating factors in developing Plantar Fasciitis.
How you deal with (or avoid a recurrence) of the condition will always depend on the advice of your doctor, but a key factor will always be this: the shoes that you're wearing when you play.
Treatment may well include physiotherapy, splints or insoles, but it will also be essential that your shoes provide appropriate arch and heel support. This is particularly true if you intend to stress the heel further by performing a high impact activity like tennis.
To help out we have put together this list of the best tennis shoes for Plantar Fasciitis.
Why You Need Specialist Tennis Shoes
Some people will talk about tennis shoes, gym shoes and trainers as if they're all pretty much the same thing, but that's very much not the case. Different types are all designed for distinct purposes, and when we're considering a temperamental condition like Plantar Fasciitis, those small design changes can make all the difference.
Tennis players need to be able to sprint like runners, as well as jump and make sudden turns at speed. They'll also be doing all of this on the hard surface of a tennis court. As a result, you need to wear a shoe that will not only keep your Plantar Fasciitis in check, but that will also prevent any pain from hampering your game as you play.
Our Picks For The Best Tennis Shoes for Plantar Fasciitis 2020
There are an awful lot of shoe manufacturers out there and they bring out new designs every year it's hard to know which ones to wear. In an attempt to make things a little simpler, here is our guide to tennis shoes for Plantar Fasciitis whether you need them for tennis, running, walking or just to look cool, there should be something here for you.
Best For Men
New Balance 990v3 Stability
They may not be the cheapest on the market, but they certainly have a lot to say for comfort. New Balance's 990v3 Stability Running Shoes, despite their title, are a fantastic choice for tennis players looking to up their game; they may not be ideal for professionals, but certainly, have the edge on entry-level tennis shoes.
With the Stability style, comfort is King or Queen. What these shoes lack in technical design they make up for in cushioning, featuring a chunky sole that reviews boast you can 'slip on and play in from day one' which is unusual for sports shoes, and especially tennis shoes which you often must break in for a week or two. They have lightweight inner soles that your feet will sink into, but don't fret about sweat; they are ventilated with mesh panels to keep your feet cool and dry.
Features:
Chunky soles for excellent shock absorption, especially around the midsole and heel
Considerable cushioning that permits athletic play from day one without breaking in
Balanced design that provides exceptional balance on the court
True-to-size width so you know what you're getting
Durable design crafted from materials manufactured in the USA
The considerable cushioning provides exceptional shock absorption, especially for the mid-sole and heel, which will drastically reduce the effects of plantar fasciitis both during and after play.
If you're seeking a new pair of tennis shoes that you can put on, lace up and play in from the get-go, you needn't look any further.
Wilson Men's Rush Pro 2.0
Wilson are not always revered for their affordability. However, the Men's Rush Pro 2.0 are some of the cheapest on the market, especially considering the mark of quality that comes with the Wilson label. These are perfect if you suffer from plantar fasciitis; they're not only lightweight, coming in at just 370g, but they also include an Endofit Sock-liner that provides comfort and exceptional shock absorption, reducing the effects of plantar fasciitis on the court.
Something Wilson guarantee is style, and these tennis shoes do not disappoint. The Rush Pro 2.0's are crafted from mesh, boosting ventilation to keep your feet cool and dry during and post-play, and are emblazoned with the brand's iconic logo, so your fellow players can see that you're wearing a quality brand. Better still, the construction is wider than a typical sports shoe, which reduces pressure at the side of your foot which may otherwise cause discomfort.
Features:
Lightweight for effortless movement on the course
Endofit technology and medium width on the back for a comfortable fit
Innovative Pro Torque Chassis Arch Technology for torsion control and stability
Lower profile than similar tennis shoes with a balanced sole
Some of the most affordable on the market for the quality
A timeless design that's signature to the Wilson brand
An excellent feature of the Rush Pro's is their reduced profile or lower sole. Most tennis shoes for plantar have chunky soles that look unfashionable and draws attention while offering no more absorption that your standard runners, but these shoes go above and beyond and offer all the comfort you need without compromising on appearance. While the cushions looks reduced, it's still there but hidden in the midsole and heel rather than in a single spot.
If you frequent the court and need a pair of tennis shoes that will last, without overspending, the Wilson Men's Rush Pro 2.0, an upgrade on the original design and a vast improvement, are for you. No matter how often you hit the court, they'll provide all the comfort you need for painless play so that you can focus on the game. These are without a doubt the best tennis shoes for Plantar Fasciitis if you are a man.
New Balance Men's 806 Motion Control
If you're seeking a mid-range, no-nonsense design that promises comfort and longevity, the Men's 806 Motion Control from New Balance are an excellent choice. Their classic, no-fuss style won't attract attention on the court, and laces mean you can tailor the tightness to your feet to improve comfort.
This shoes' upper is crafted mostly from leather, which is supported by a thick, multi-layered rubber and foam sole that provides maximum shock absorption on landing. Better still, the toe of the shoe is reinforced and isn't too thin, which means, as well as experiencing comfort in your heel and arch, you won't experience any pain in your toes – a common complaint from tennis players suffering from plantar fasciitis.
Features:
Multi-layered rubber sole for maximum shock absorbing
Reinforced toe box that's wide and comfortable (perfect for wide feet)
Lace-up for a versatile fit and comfort
Perforated side panels to boost ventilation
Available in numerous colorways
This pair of shoes is supported by Balance's innovative ABZROB cushioning technology, which is specifically designed to absorb kinetic energy when your feet hit the floor. This cushion technology works like memory foam; on landing, the shoe absorbs the shock, which allows minimal energy to reach your pain areas, such as your heel to toe and arch. The perforated leather panel at the side of the shoe allows your feet to breathe, too, so you'll be left dry and comfortable throughout play.
If you're unsure of the white leather finish, know that you can choose from numerous colorways and select one that reflects your personality on the court.
New Balance's 806 Motion Control provide superb support, comfort and ventilation, supporting your arch and reducing the effects of plantar fasciitis. If you're seeking a cool, comfortable pair of tennis shoes and don't want to break the bank, they're the shoes for you.
Best For Women
Prince Women's T22 Lite
An upgrade on the T22 Tennis Shoe, Prince's Women's T22 Lite not only boasts a competitive price tag but also an air-like quality on the court. They're incredibly lightweight, which is not the case for many tennis shoes suitable for those suffering from plantar fasciitis due to the need for additional cushioning for shock absorption. However, these shoes have it all.
Prince's T22 Lite's are lace-up for a flexible fit and boast TPU foot straps at the arch, which provides stability and comfort both during and post-play. They have a cushioned rubber sole that absorbs shock on landing, such as when serving. The synthetic material the shoe is made from is also cushioned, which means your feet are not only supported at the sole but all-around, including at the heel, the side of your feet and the upper.
Features:
Upgraded design for a lightweight finish
Cushioned sole with multi-layer support for comfort
TPU straps at the arch for great support
Mesh tongue to boost ventilation and keep your feet dry
Lace-up style for a flexible fit
Durable design that's proven to last; a customer favorite
The length of the tongue of these shoes is made from mesh, which boosts ventilation not only at the side of your foot but also the top, which also reduces rubbing.
When you purchase Prince's T22 Lite, you can rest assured that your feet are protected at all angles, reducing both the short and long-term effects of your plantar fasciitis when on the court and otherwise. These are our pick for the best Plantar Fasciitis tennis shoes if you are a woman.
Asics Gel-Dedicate 5
Asics is another label generally associated with a high price tag, but that's not true of the Gel-Dedicate 5 . These shoes are ideal for those suffering from plantar fasciitis, most notably due to their innovative forefoot gel cushioning system, which reduces shock during impact and toe-off phases, such as when serving.
These shoes also include a PGuard toe protector to reduce impact to your toes while on the court, making up part of the multi-layered design that boosts support. This is accentuated by the synthetic overlays across the body of the shoe, which adds stability and consequently reduces impact to your arch. Similarly, the 9mm rubber heel supports the back of your foot and eradicates the possibility of pain in the heel post-play.
Features:
Affordable design from a high-end brand
An innovative forefoot gel cushioning system to reduce shock
PGuard toe protector to minimize impact
Synthetic overlays on the shoe upper to boost stability
9mm rubber heel to prevent heel pain
Mesh upper to keep your feet cool and dry
Anti-gravel tongue to prevent debris from entering the shoe during play
Lace-up design for a customized fit
As well as the technical benefits, the Gel-Dedicate 5 include a mesh upper that supports ventilation to keep your feet cool and dry during play. If you play on an outside court, you'll be pleased to know that the shoe includes an anti-gravel tongue, which prevents debris from entering the shoe and causing you additional discomfort.
Seeking a stylish shoe that will effectively reduce the effects of your plantar fasciitis while playing tennis? The Asics Gel-Dedicate 5's are the shoes for you.
Best for Players with High Arches:
Nike Zoom Vapor Tour 9.5

Nike's Zoom Vapor Tour 9.5's can help to provide a professional level on-court performance. That's not a surprise when you consider that Roger Federer helped to design them.
Thankfully, they're not only a great tennis shoe for pro tennis stars, but a great shoe for suffers of Plantar Fasciitis too.
Their Adaptive Fit technology maps the contours of your foot, wrapping from the bottom upward, providing excellent support and moving with your feet as you play. They also have excellent heel cushioning to handle the heavy impacts of a hard court and are particularly well suited to people with high arches.
Features:
Adaptive Fit system
Zoom Air unit in the heel
TPU midfoot shank for lateral support and stability
Phylon midsole for lightweight cushioning
Rubber outsole with XDR compound on the heel for improved traction
With built-in support and superb cushioning, the Nike Zoom Vapor Tour 9.5 is a great shoe for Plantar Fasciitis sufferers, but it does come with an appropriately high price tag. Also, if you have low arches, you may want to consider the Adidas Barricade (below).
Best for Players with Medium-Low Arches:
Adidas Barricade 2018
Improving on a former favorite, the Adidas Barricade 2016, the Barricade 2018 once again provides a supportive lower chassis, topped with adjustable mesh, meaning that wearers get a fantastic mix of close comfortable fit and firm support. Reviewers say that the Barricade series is particularly good for wearers with low to medium arches.
Features:
Barricade chassis
Seamless Forgedmesh upper
Geofit construction
Durable Adiwear 6 outsole
Ghillie at top of lacing
Responsive Boost midsole
Unlike the Barricade 2016, which was released in a men's version only, the Barricade 2018 is happily available for both men and women. Given that it is well suited for those with low arches, it will be less ideal for anyone with particularly high arches.
Best Professionals and Chronic Sufferers:
Z-CoiL Freedom Slip Resistant
Unlike the other shoes on this list, the Z-Coil Freedom isn't specifically a tennis shoe, just a fantastic shoe built from the ground up for people with Plantar Fasciitis, or other foot pain, who still want to exercise. Every pair comes with an exclusive Z-Orthotic insole, which will protect the wearer's plantar ligaments. The Z-Coil Freedom provides exceptional support and cushioning to keep your heel well protected, whilst also being breathable and slip-resistant.
Features:
Slip-resistant outsole
Replaceable coils
Built-in Z-Orthotic® (protects plantar ligaments)
Thick Forefoot cushions
Felt lined removable insole
Breathable mesh
3mm foam insert
30-day trial
The Z-Coil Freedom Slip Resistant Shoe is one of the best available for anyone dealing with Plantar Fasciitis, whether they play tennis or not. They were designed specifically to aid foot pain, and as a result don't come cheap. However, the reviews all say that they're worth it, and if you don't get on with them then Z-Coil will accept a return after 30 days of use, no matter the condition of the shoe.
If your Plantar Fasciitis is being treated and the resulting foot pain is only moderate, then you can probably manage with a very supportive shoe, and can buy something built specifically for that activity, but if your Plantar Fasciitis is causing you real problems, then the Z-Coil Freedom could be what you need to get you back on the court again.
Best for Hobbyists and Beginners:
Adidas CC Rally Comp
Designed for maximum support with minimum weight, these tennis shoes are intended to protect even those feet that have very high arches. The internal support grants a lot of stability to the foot, whilst the extra cushioning will help to absorb shocks that would otherwise stress the heel further ( an absolute must for anyone playing on a hard surface like a tennis court).
They're also very well ventilated, keeping your feet cool during a long match, and can be bought in an array of stylish colors.
Features:
Torsion System for midfoot integrity
Lightweight mono-mesh upper construction for maximum breathability
Climacool 360-degree cooling
Internal web skeleton construction for stability during extreme movements
EVA midsole for excellent forefoot propulsion
Light and comfortable from the off, without a need to break them in, Adidas CC Rally Comps are a great choice of tennis shoe with an affordable price tag. Their main disadvantage is that, due to their minimal design, there's not much space inside them for custom insoles or braces, often an additional component of Plantar Fasciitis treatment.
What about orthotic insoles for plantar fasciitis?
If you're a regular on the court, it can't be denied that getting a good pair of tennis shoes will take you far and can be much more convenient than buying insoles for your shoes. However, for those with severe plantar fasciitis that struggle to find comfortable tennis shoes, orthotic insoles may be the answer.
Insoles come in all shapes and sizes, but Pro 11 Wellbeing's orthotic insoles for plantar fasciitis are some of the best reviewed on the market, and they cost next to nothing, so are a well worth giving a go. You simply slip them into the tennis shoes you already own and love, and they'll provide additional cushioning, particularly around your arch and heel. Better still, Pro 11 Wellbeing's collection includes a slim-fit style, so that you don't have to compromise if you have small feet.
If you're taking up tennis for the first time, you may also find inserts useful if your gym shoes, for example, lack a prominent arch, which over time can cause plantar fasciitis. Using orthotic insoles are an excellent first step; however, we recommend investing in good shoes if you plan to continue playing tennis long-term.
How to Choose Tennis Shoes If You Have Plantar Fasciitis
So, you're recovering from plantar fasciitis, but you don't want it to keep you off the court. What do you need to look for when you're standing in the shop staring at a wall of tennis shoes? Here are some clear specifics to keep your eye on:
Cushioned Heel
Strain to the heel through repetitive motion is a significant cause of plantar fasciitis, and the hard impacts of jumping and running on a tennis court are exactly the sort of strain that we want to avoid. As such, the ideal tennis shoe will have extra cushioning around the heel. This cushioning should absorb some of the impact as you run and jump so that your shoes bear the brunt of the forces coming at you, rather than your poor feet.
Stability
Anybody playing tennis needs a stable shoe (who wants a twisted ankle, after all?), but it's of particular concern to Plantar Fasciitis suffers. If a shoe doesn't fit well then it could rub or slip, leading to further strains or injuries down the line as you dash about the tennis court. All of this could make plantar fasciitis significantly worse. As such, it's imperative that your tennis shoe fits closely around the contours of your foot and provides great support to avoid further injury.
Comfort
Although Plantar Fasciitis sufferers have all sorts of extra things to look out for when they buy footwear, you should always keep in mind that the most important thing about any shoe – for tennis or other purposes – is that it is comfortable. If you think you've found a pair of tennis shoes that you like, try them on and have a walk around to make sure that they fit the way you want them too.
Shoes that aren't comfortable will be horrible to play in, and you can easily find yourself changing your body mechanics to account for that discomfort. That's an easy way to cause new joint strains or exacerbate existing problems, by encouraging your body to move in unnatural ways. You want shoes that feel absolutely natural on your feet, whilst ideally being to light that you barely notice them.
Arch Support
Plantar Fasciitis can also result from flat or dropped arches on your feet. When the natural arch of the foot isn't there, your feet essentially lose their ability to act as shock absorbers, or have to overexert themselves in order to perform that function. Every time you take a step, the whole sole of your foot impacts straight down, making full contact with the ground and transferring all of that jarring force directly into your heels and ankles. Shoes with proper support keep your foot in the right position with a natural arch in place, adding that extra protection back.
What Arch Do You Have?
The arch of the foot is the portion of the sole that runs from your toes up to your heel. For most people, the whole of your foot is not usually in contact with the ground when you stand, instead, there is a gentle arch that lifts a portion of your inner sole off the ground.
If you have a low arch or flat arch known as flat feet, then (as described above) all of your foot tries to come into contact with the ground at once when you take a step. This massively increases the stress that your foot and heel will need to absorb every time that you take a step. Combining a flat foot with a high impact sport like tennis can be one of the fastest ways to bring on plantar fasciitis.
People with high arches have an arch that is more elevated that normal. High arches often lead to leg pain due to added stress on the foot, between the ankle and the toes. It can be tough to fit a shoe that provides adequate support for an activity like tennis if you have high arches, so it's important to look carefully.
Just because you have Plantar Fasciitis doesn't mean that you have high, low or flat arches, but if you do, it will be an essential factor in identifying the correct tennis shoe for you to play in.
The Last Word on Finding Your Perfect Sneakers
Plantar Fasciitis shouldn't stop you from enjoying playing tennis. We've made some helpful recommendations here, but it's important to remember that your feet and your gait are individual to you, and what works for one person may not work for someone else. Get to know your feet and your condition. Are high or low arches a problem? Have you been playing tennis in gym shoes without any cushioning in the heel? Think about the particular stresses that tennis will put your feet under (high impact, running, sharp turns) and shop appropriately.
Most importantly, always make sure that you try shoes on and give them a good go before you commit to buy. And even if, from time to time, your Plantar Fasciitis stops you from getting out on court, it shouldn't stop you for long. In the meantime, there are plenty of other uses for tennis balls.